Want to discover the beautiful French regions? Your best option is to drive, to have more freedom. From Paris-Orly, you could, for example, discover the castles of the Loire Valley...
Here is our complete guide to renting a car at Orly airport (ORY):
choice of car,
choice of the car rental agency in Paris-Orly,
find the best prices,
insurance,
driving tips,
...
Renting a car at Orly airport - introduction
Orly airport is located south of Paris
It can be called: ORY, Orly or Paris-Orly.
It is accessible from the center of Paris by the RER B and the Orlyval, and will be accessible by the metro in 2024.
You will find all the classic brands (see tip 1)
The terminals form a semi-circle
The car rental agencies are located in the heart of this semicircle, between the Orly 1 and Orly 2 terminals.
Car rentals are available in the underground parking lots on Level -1 on aisles E to O. More info in our tip 1.
Everything is always well signposted to find car rentals (see tip 16)
Driving in the airport is not the easiest. Take your time and forget about honking idiots. Concentrate on the return of the car, there are many signs, but also many crossings (see tip 20)
Take advantage of the offers on our preferred platform Discovercars
#1 to 3 - Choosing your car rental agency at Paris-Orly airport
In our family, we are very loyal as long as we are satisfied with a brand. But not for car rental agencies, there are too many variations between agencies, prices and availability. You can't have a constant experience. Each time we select the offer that best suits us for the planned trip but on our preferred platform.
Tip 1 - Know what agencies are available
Inside Orly airport you will find all the classic brands:
Avis
Budget,
Europcar
Hertz
Thrifty
Dollar
Alamo
Enterprise
National
Sixt
Outside, you can find lower offers with the difficulties of access and the risks that this includes.
On Discovercars.com, for each displayed offer, the pick-up location is indicated. Don't miss this crucial information.
Tip 2 - Compare prices and conditions
We always compare prices immediately at Discovercars.com.
It is one of the highest rated comparison sites in the market, and our favorite.
What we like:
very good deals even with international brands
a super easy to use platform that allows you to compare many brands
many filters to find offers that match our needs: number of drivers, age, agencies...
a convenient and very affordable insurance option that will cover you in case of damage to the exterior of the car.
See their current car rental offers at Orly airport.
Tip 3 - Which rental agency to choose
There is no "best" rental agency.
They all have advantages and disadvantages.
To choose, we advise you to consider:
availability of the type of car you need
cancellation policy
authorized mileage
Pick-up location (at the terminal exit or further away)
notes and opinions - but take with a pinch of salt - analyze negative comments. Is the agency really bad or is it people who didn't ask about the conditions beforehand (e.g. security deposit) or who didn't take out insurance?
On the Discovercars.com platform, each rental agency has a 10 point rating (given by real customers). You can use the filter to keep only the best.
FOR QUALITY ADVICE


Support us
Do you enjoy all the free content you find on our blog, without intrusive ads?
Our independence, the only guarantee of qualitytips, is partly based on your generosity!
We offer you to give us a coffee (or several) in the hope of sharing it with you one day in person!
#4 to 7 - Choosing your rental car and extras
Tip 4 - What size car to choose
When you rent a car in France, we advise you to choose a car that:
has a trunk big enough for your luggage, so that it is not visible if you are on a road trip
is not too wide, as some villages and old town centers have narrow streets and we don't want you to stress
is not too long if you don't like to do slots. French parking spaces seem very small to Americans, Canadians and Australians.
Tip 5 - What transmissions are available
Most cars for rent in France have a manual transmission.
Some rental agencies have automatic cars, but few. We recommend that you book early.
At Discovercars.com, you can use the "Automatic Transmission" filter on the left, if this is a must for you.
Tip 6 - Child Seat Rules in France
Children under 10 years of age must be seated in a special seat in the back of the car.
Tip 7 - GPS
The GPS options offered by car rental companies are often very expensive. We do not recommend them.
Your best options:
Use your phone - but be careful!
If you have a phone, keep in mind that roaming charges abroad can be very high.
However, you can download a map in advance, when you are connected to the wifi, so you can navigate without spending money.
Don't forget your phone charger and holder to keep it comfortable!
Bring your own GPS
This way you know how it works and you can enter all the destinations in advance, which saves a lot of time.
PLAN YOUR TRIP IN


Loire Valley
---
The castles of the Loire Valley
---
---
#8 to 10 - Rent a car in Orly (ORY): the price
A budget: how much does it cost to rent a car in France
To give you an idea, Discovercars.com lists the following information:
There are large variations throughout the year
Average prices vary from 30 to 90 Euros per day
The cheapest prices are usually for a trip at the end of the year
The highest prices are from June to August
It is very easy to compare prices online on a platform. And if you're comparing between sites, don't forget to check for any hidden fees. You have to compare what is comparable with the same options and conditions.
Tip #8 - When to Rent a Car
As soon as you have chosen your dates, book the car!
France is a very popular destination, especially during the months of July and August. No last minute offers in summer.
If you want to have a choice of cars and good prices, we advise you to rent your car as soon as possible.
Tip #9 - How to cut costs, find a cheap rental
First of all, let's be honest: you can't have it all, the ultra-low price, the best service in the world and the brand new car...
There is always a balance between price, quality and service.
To reduce the cost of your car rental in France, we advise you to:
Book early
Reserve a smaller car
Choose a rental with no cancellation or with limited cancellation
Return the car to where you picked it up
Pay attention to the start and end times of the rental (usually charged in 24-hour increments).
If you are renting for 6 days, check the price for 7 days - sometimes companies have a discount for week-long rentals.
Book with limited mileage
Tip #10 - Factor in the cost of an extra driver
Decide in advance whether or not you will need more than one driver.
It is better to compare the prices with a 2nd driver included, to have a real comparison.
Some companies offer deals with an extra driver for free.
On the Discovercars.com platform, if available, it can be selected on the filters.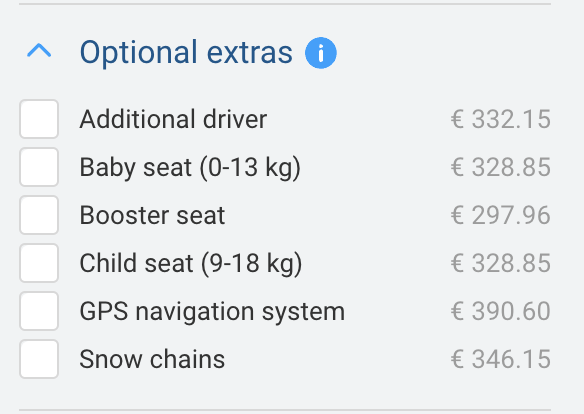 #11 to 13 - Conditions to rent a car in France
Tips 11 - Permits to rent a car in France
To drive legally in France (on vacation / short trip), you can use a standard international driving license, i.e. with:
a license number,
a photograph,
a validity date,
and written in Latin letters.
The following permits are therefore valid: EU, USA, Canada, UK, Australia, New Zealand, Switzerland...
But if you have any doubts, bring your international driving license. This gives you peace of mind.
Tips 12 - Age and years of driving
The legal age to drive alone in France is 18.
However, most car rental agencies in France :
require you to be at least 21 years old
require that you have held a driver's license in your home country for one year or more
may add fees if you are under 25 or over a certain age.
It is best to make sure you read all the fine print.
On the Discovercars.com platform, you can enter your age range to see the limitations and additional fees right from the start:
Tip #13 - Credit card capable of handling holdback
We'll look at the insurance issue later.
But from now on, keep in mind that the agency will ask you for your credit card to hold a deposit (unless you have taken a no-deductible insurance).
This deposit is held on your card (until the car is returned undamaged), which limits your ability to pay (weekly or monthly limits).
So make sure to:
Use another credit card for the deposit fee,
or contact your bank before you travel to change your limits,
or purchase comprehensive insurance with a 0 deductible.
Is this a concern for you?
See what is possible with the "security deposit" filter on the Discovercars.com platform:
#14 to 15 - Choosing your insurance
Tip #14 - What insurance should I take out?
The compulsory insurance in France is the civil liability insurance (RC - Third Party Liability). It covers personal and property damage to cars and other people's property and even medical expenses.
It is included in the price of the rental car.
But it is possible to take out additional insurance that limits your liability during the rental period and reduces the maximum amount you will have to pay in case of damage (sometimes down to 0).
This is theCollision Damage Waiver (CDW).
It's up to you to decide how much financial risk you're willing to take versus how much you're willing to increase the price of the rental.
Tip #15 - How to Buy Insurance
If you decide to take out additional "insurance" to reduce the cost in case of an accident, you can:
Use your current insurance
Some credit cards and auto insurance offer rental car coverage. But read all the fine print to understand what is and isn't covered, because it is often very narrow.
Subscribe at the time of reservation
When booking, you have the possibility to select the options. The offers are most of the time better than at the counter.
On the agency sites, you get the dealer's insurance, but on the platforms, you get special insurance created by the platform.
For example, on Discovercars.com, they have their own "Full Coverage Waiver" insurance option. We find it very advantageous and use it.
Personally, this is what we use. You have to pay in advance, but they refund quickly if you send all the papers. This seems to us to be the best option in terms of cost / ease. We had to use it once because we had a chip on the windshield and the refund was no problem.
Subscribe at the counter to the car rental
This is the most expensive option.
Purchase travel insurance
Purchase travel insurance that includes comprehensive car rental insurance from one of the traditional insurance companies.
#16 to 18 - Recovering the car
Tip 16 - Access to rental companies at Orly airport
At each arrival terminal, you will find very clear signs: for car rental, the logo is a car with a key on it with Car Rental written in French, English and Mandarin.
Not to be confused with the cab logo with a car and the word cab above.
No stress, it is very easy to find the car rental area.
Between Orly 1 and Orly 2 terminals, you must take either an elevator, an escalator or stairs to go down to level -1 under the airport.
No need to look in every corner, they are grouped together.
Before entering the parking lot, look at the signs. They indicate on which lane (letter E to O) each mark is located. The letters are written in large letters on the posts.
Tip #17 - Check your vehicle at pickup
Although scams are not common, they do happen.
For peace of mind, we advise you when you take over the car:
Take a detailed tour of the car either with an agent or with the form. If they don't give you anything, take a look around anyway and go back to the counter if you notice anything.
Take pictures of any problematic details (scratches, dents...). Even if they tell you it's too small to count.
Don't forget:
roof the exterior of the car to detect dents and scratches.
the roof - this is often forgotten, but it may be checked when you return.
the underside of the bumper
the back of the mirrors
the condition of the tires
the spare wheel
the interior (especially the seats)
Fuel level and mileage (which must match the record)
Tip #18 - Make sure the mandatory equipment is in the car
In France, the following equipment must be available in the car:
Warning triangle
Reflective vest or jacket for at least 1 person
Spare tire (recommended - but not required)
A LITTLE MORE

patience
All the photos, maps, information, good addresses to make your stay in the Loire Valley a success, will soon be gathered in a single ebook!
If you wish to be informed of the publication of our guide on the Loire, register:
#19 to 20 - Return the car
Tip #19 - Refueling
More and more agencies now have a system where you have to return the car with the same level of fuel (not full to full but same to same).
It's very annoying, but it's more manageable for them.
Therefore, you need to understand how much the car consumes and how many kilometers/miles you have left, if you don't want to waste money.
Be careful, once in the meander of the airport, it will not be possible anymore.
Tip #20 - Return the car
Concentrate well when returning the car, there are many signs, but also many crossings. So slow down (without stopping because it would be dangerous) and remember to get off in the parking lots.
Driving in the airport is not the easiest. Take your time and forget about honking idiots.
If, like us, you like to have peace of mind, drop the car off during opening hours. This way, the controls are validated in front of you.
If this is not possible, take pictures of the car before you drop it off.
Don't be stressed. If you've hired a reputable company and follow the rules, everything should go smoothly.
#21 to 25 - Driving in France
Tip #21 - Understand traffic rules and conditions
Here are the essential French rules of conduct:
Right-hand traffic
Seatbelt is mandatory for all
If an intersection does not have a sign or ground sign, you yield the right of way to the person coming from your right (see Tip 23)
Tolerated blood alcohol level of 0.05%.
You are not allowed to turn right at a red light, as is possible in some countries.
The horn is only allowed in case of immediate danger (but the French tend to forget this rule)
Tip #22 - Observe speed limits
The speed limits indicated in the red circle, normally:
30 to 50km/h in the city,
80km/h on roads between cities,
130km/h on highways
Be careful, there are a lot of radars in France.
Tip #23 - Know the French "Priority on the Right
Attention!
This is a rule that confuses many people.
Many intersections have a light, stop sign or yield sign. It's classic and easy.
But in some French cities, many crossings may have no indication. We then apply priority to the vehicle coming from the road on the right (even if this road seems much less important).
Tip #24 - What to do if you damage the car
If you damage your rental car, start by contacting the car rental agency.
Then it depends on the insurance option you choose:
basic insurance: you will have to cover the damage up to your deductible.
full coverage with the agency: check with them and the damage should be covered.
Discovercars.com insurance: contact them and provide all the information (within 28 days of the car deposit). They will reimburse you for the fees and costs associated with the damage, if warranted.
your own insurance company: contact them and provide all the information. They will reimburse you for the fees and costs associated with the damage, if they are justified.
Tip 25 - What to do in case of an accident
If people are injured or if there is a conflict, the emergency number in France is 112:
The best order of action is
contact the emergency services (only if there are injuries)
contact the police (only if there are injuries or a conflict)
contact your rental company.
But don't stress, take your time and enjoy the scenery!