Do you want to discover the most beautiful places in France?
Renting a car in France is your best option.
We have put together all our practical advice to make renting easier for you:
type of car
best rental agencies
offers and notices,
reduce the price,
insurance,
rules and tips for driving...
Tour for a worry-free trip.
Do you need a car in France?
It depends: where are you going? What do you want to see?
If you just want to explore Paris or any of the other big cities, then you can use the intense public transportation network.
On the other hand, renting a car is the best option if you want to be able to explore the beautiful French regions, such as the Loire Valley with
charming villages
lots of castles
vineyards as far as the eye can see
...
Here are some places you could discover with your car in the Loire, for example :
The platform we prefer to use
Decided to rent a car?
We'll share all our tips for each step of the rental process in this article.
But if you are in a hurry to see what we think of the best deals, we always compare prices immediately at Discovercars.com.
It is one of the highest rated comparison sites in the market.
What we like:
very good deals even with international brands
a super easy to use platform
lots of filters to find offers that match our needs: number of drivers, age, agencies...
A convenient and affordable coverage option that will cover you in case of damage to the exterior of the car.
See their current car rental offers in France, enter your starting point.
Or see their current offers at Roissy Charles de Gaulle, Orly and Nantes Atlantique airports.
Conditions for car rental in France
Permits to rent a car in France
To drive legally in France (on vacation / short trip), you can use a standard international driving license, i.e. with:
a license number,
a photograph,
a validity date,
and written in Latin letters.
The following permits are therefore valid: EU, USA, Canada, UK, Australia, New Zealand, Switzerland...
But if you have any doubts, bring your international driving license. This gives you peace of mind.
Age and years of driving
The legal age to drive alone in France is 18.
However, most car rental agencies in France :
require you to be at least 21 years old
require that you have held a driver's license in your home country for one year or more
may add fees if you are under 25 or over a certain age.
It is best to make sure you read all the fine print.
On the Discovercars.com platform, you can enter your age range to see the limitations and additional fees right from the start:
Credit card capable of handling holdback
We'll look at the insurance issue later.
But from now on, keep in mind that the agency will ask you for your credit card to hold a deposit (unless you have taken a no-deductible insurance).
This deposit is held on your card (until the car is returned undamaged), which limits your ability to pay (weekly or monthly limits).
So make sure to:
Use another credit card for hold fees,
or contact your bank before you travel to change your limits,
or purchase comprehensive insurance with a 0 deductible.
Is this a concern for you?
See what is possible with the "security deposit" filter on the Discovercars.com platform:
A budget: how much does it cost to rent a car in France
To give you an idea, Discovercars.com lists the following information:
There are large variations throughout the year
Average prices vary from 40 to 80 Euros per day
The cheapest prices are usually for a trip in March
It is very easy to compare prices online on a platform. And if you're comparing between sites, don't forget to check for any hidden fees. You have to compare what is comparable with the same options and conditions.
Compare car rental prices in France
How to rent a car in France (before the trip): our practical advice
When to rent a car in France
As soon as you have chosen your dates, book the car!
France is a very popular destination, especially during the months of July and August. No last minute offers in summer.
If you want to have a choice of cars and good prices, we advise you to rent your car as soon as possible.
Where to rent
If you land in an airport in one of the major cities, we recommend that you rent directly at the airport but before or after visiting that city (especially Paris).
We do not recommend driving in Paris. The city has a very good public transportation system.
Rent your car as soon as you are ready to explore the areas.
The largest car rental hubs in France are :
And to rent in the Loire Valley, see the best prices for :
What size car to choose
We advise you to choose a car that:
has a trunk big enough for your luggage, so that it is not visible if you are on a road trip
is not too wide, as some villages and old town centers have narrow streets and we don't want you to stress
is not too long if you don't like to do slots. French parking spaces seem very small to Americans, Canadians and Australians.
has enough power, if you decide to climb the mountainous roads of the Alps or the Pyrenees. Otherwise, the roads are quite quiet.
What transmissions are available
Most cars for rent in France have a manual transmission.
Some rental agencies have automatic cars, but few. We recommend that you book early.
At Discovercars.com you can use the "Automatic Transmission" filter on the left, if this is a must have for you.
Which rental agency to choose
There is no "best" rental agency.
They all have advantages and disadvantages. And even for the same brand, one location's agency can offer a very different experience than another location.
To choose, consider:
availability of the type of car you need
cancellation policy
authorized mileage
pick-up location (some require the use of a shuttle)
notes and opinions - but take with a pinch of salt - analyze negative comments. Is the agency really bad or is it people who didn't ask about the conditions beforehand (e.g. security deposit) or who didn't take out insurance?
On the Discovercars.com platform, each rental agency has a 10 point rating (given by real customers). You can use the filter to keep only the best.
How to reduce the cost, find a cheap rental
First of all, let's be honest: you can't have it all, the ultra-low price, the best service in the world and the brand new car...
There is always a balance between price, quality and service.
To reduce the cost of your car rental in France, we advise you to:
Book early
Reserve a smaller car
Choose a rental with no cancellation or with limited cancellation
Return the car to where you picked it up
Pay attention to the start and end times of the rental (usually charged in 24-hour increments).
If you are renting for 6 days, check the price for 7 days - sometimes companies have a discount for week-long rentals.
Book with limited mileage
How to cross a border
Be careful, if you take a ferry or cross a border with the rental car!
From France, you can :
take a ferry to Corsica or England
take a ferry to the small islands
cross the border with Monaco, Belgium, Luxembourg, Germany, Switzerland, Italy, and Spain.
Be sure to read the rules to see if this is allowed and check for any additional fees.
On the Discovercars.com platform, once you have clicked on an offer, click on "Rental Conditions" and then again on "Rental Conditions" or "Additional Conditions" to find the "Geographical Restrictions".
If they are not documented, you can add the question for customer support to answer.
What extras: insurance, drivers, child seats...
Rules concerning child seats in France
Children under 10 years of age must be seated in a special seat in the back of the car.
Additional driver fee
Decide in advance whether or not you will need more than one driver.
It is better to compare the prices with a 2nd driver included, to have a real comparison.
Some companies offer deals with an extra driver for free.
On the Discovercars.com platform, if available, it can be selected on the filters.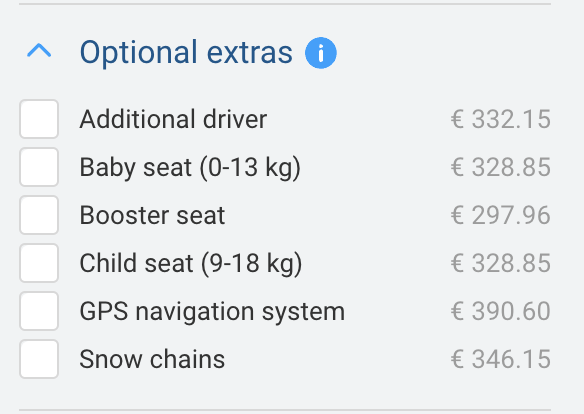 What insurance should I take out?
The compulsory insurance in France is the civil liability insurance (RC - Third Party Liability). It covers personal and property damage to cars and other people's property and even medical expenses.
It is included in the price of the rental car.
But there are many levels of insurance. And their wording is often not very clear.
Here are 2 types of insurance that can be offered to you (note: these are not really insurance, but exemptions that limit your liability):
Collision Damage Waiver (CDW)
it limits the customer's liability during the rental period and sets the maximum amount the customer will have to pay in case of damage
Theft Protection (TP)
it limits your liability to the amount of the vehicle deductible/excess in the event of theft of the car. It is often included in the price of the car rental.
and many others...
How to buy insurance
No additional insurance
apart from the compulsory insurance, you are not obliged to take any extras. Just be aware that in the event of an incident, you may be responsible for your entire deposit.
Option 1 - Use your current insurance
Some credit cards and car insurance offer rental car coverage.
You have to read all the fine print to understand what is covered and what is not, because it is often very narrow.
Option 2 - Subscribe at the time of reservation
When booking, you normally have the possibility to select the insurance you want. The offers are most of the time better than at the counter (I saw 3 times cheaper, once).
On the agency sites, you get the dealer's insurance, but on the platforms, you get special insurance created by the platform.
For example, on Discovercars.com, they have their own "Full Coverage Waiver" insurance option. We find it very advantageous and use it.
Option 3 - At the car rental
This is the most expensive option.
Option 4 - Travel Insurance
Purchase travel insurance that includes comprehensive car rental insurance from one of the traditional insurance companies.
What to check on your rental car
Check your vehicle at pick-up
Although scams are not common, they do happen.
For peace of mind, we advise you when you take over the car:
Take a detailed tour of the car either with an agent or with the form. If they don't give you anything, take a look around anyway and go back to the counter if you notice anything.
Take pictures of any problematic details (scratches, dents...). Even if they tell you it's too small to count.
Don't forget:
roof the exterior of the car to detect dents and scratches.
the roof - this is often forgotten, but it may be checked when you return.
the underside of the bumper
the back of the mirrors
the condition of the tires
the spare wheel
the interior (especially the seats)
Fuel level and mileage (which must match the record)
Check that the mandatory equipment is in the car
In France, the following equipment must be available in the car:
Warning triangle
Reflective vest or jacket for at least 1 person
Spare tire (recommended - but not required)
How to manage your rental car in France (tolls, gas, problems...)
Toll management
There are many tolls in France. Not in the cities but on the bridges and highways.
To reduce your costs, there is always an alternative to highways. The road will be longer, however.
Look at the icons at the top. The 30km/h lanes are dedicated to those who have the badge. Don't use them if you pay by credit card!
What to do if you get a fine or ticket (speeding / parking)
You are responsible for any traffic tickets or fines you receive during the rental period.
If you are notified immediately, you may pay at the police station or online as indicated.
But be aware that it can take up to 3 months before a fine is reported to the car owner (the rental company). In this case, they will send you a proof and charge you for it and may add an administrative fee for handling the fine.
What to do if there is a problem with the car?
If you have a problem, open your rental agreement.
You will find the steps to take, including the number of the assistance service in case of breakdown.
Filling up
More and more agencies now have a system where you have to return the car with the same level of fuel (not full to full but same to same).
It's very annoying, but it's more manageable for them.
Therefore, you need to understand how much the car consumes and how many kilometers/miles you have left, if you don't want to waste money.
Return the car
If, like us, you like to have peace of mind, drop the car off during opening hours. This way, the controls are validated in front of you.
If this is not possible, take pictures of the car before you drop it off.
Don't be stressed. If you've hired a reputable company and follow the rules, everything should go smoothly.
What to do if you damage the car
If you damage your rental car, start by contacting the car rental agency.
Then it depends on the insurance option you choose:
basic insurance: you will have to cover the damage up to your deductible.
full coverage with the agency: check with them and the damage should be covered.
Discovercars.com insurance: contact them and provide all the information (within 28 days of the car deposit). They will reimburse you for the fees and costs associated with the damage, if warranted.
your own insurance company: contact them and provide all the information. They will reimburse you for the fees and costs associated with the damage, if they are justified.
Driving in France: the essentials
Understand traffic rules and conditions
Here are the essential French rules of conduct:
You drive on the right
seat belts are mandatory for all
speed limits indicated in the red circle: normally 30 to 50km/h in cities, 80km/h on roads between cities, 130km/h on highways
if an intersection does not have a sign or ground sign, you give way to the person coming from your right
blood alcohol level tolerated at 0.05%.
You are not allowed to turn right at a red light, as is possible in some countries
The horn is only allowed in case of immediate danger (but the French tend to forget this rule)
The French "Priorité à droite
Attention!
This is a rule that confuses many people.
Many intersections have a light, stop sign or yield sign. It's classic and easy.
But in some French cities, many crossings may have no indication. We then apply priority to the vehicle coming from the road on the right (even if this road seems much less important).
What to do in case of an accident?
If people are injured or if there is a conflict, the emergency number in France is 112:
The best order of action is
contact the emergency services (only if there are injuries)
contact the police (only if there are injuries or a conflict)
contact your rental company.