Can the recipes that have made hotel chains successful be adapted to the 21st century? You have one night at the OKKO Hotel in Nantes to make up your mind!
Ideally located a few steps away from the Dukes of Brittany castle, this hotel is the first born of the new OKKO hotel chain which promises you"4 stars and no clouds".
In this article, we share with you our review on this hotel, many photos and practical advice to try the experience.
This review is completely independent, we stayed anonymously and paid our bill in full.
OKKO Hotel: Our opinion
Why stay at the Okko Hotel
Even if thehotel offer in Nantes is particularly rich and the choice will be difficult, the Okko Hotel does not lack arguments:
Its location: a few steps from the Dukes of Brittany castle and the lively Bouffay district with its many restaurants and bars, it is ideally situated to discover the city.
Its concept: beyond the room, OKKO Hotel promises you the "CALM" acronym of "Comme A La Maison". At no extra cost, you can access the CALM Club and enjoy a whole range of services: snacks, hot and cold drinks, aperitivo, press and beautiful books, fitness area and sauna...
Its decoration: designed by the talented Patrick Norguet, the rooms adopt the pure codes and soft shapes that are his signature.
---
Read more
---
Is the OKKO Hotel worth it? Our review
We particularly like the creativity and its procession of new concepts. To say that the big historical channels have been shaken up (to our great pleasure) for the last fifteen years is an understatement.
Between customer reviews on booking platforms and the development of Airbnb, the hotel industry is being profoundly challenged .
So when a former Accor group executive (Mercure, Novotel, Ibis hotels...), Olivier Delys, launched a new hotel chain in 2009, with the ambition to be part of the times, we didn't hesitate to test it.
Nantes is home to the first OKKO Hotel, which opened in 2014. The chain now has 13 establishments in France.
---
Read more
---
FOR QUALITY ADVICE

QUALITY
Support us
Do you enjoy all the free content you find on our blog, without intrusive ads?
Our independence, the only guarantee of qualitytips, is partly based on your generosity!
We offer you to give us a coffee (or several) in the hope of sharing it with you one day in person!
Decoration and atmosphere
Beyond the concept, OKKO Hotel has decided to hit hard on the decoration, by entrusting the design of its rooms to the French designer Patrick Norguet.
One of the great names of contemporary creation, he designs for the great publishers of contemporary furniture (Glas Italia, Poltrona Frau, Flaminia, Lapalma...). We owe him in particular the Rainbow Chair, published in 2000 by Giulia Cappellini, which entered the collections of MoMA.
He applies to the rooms of OKKO Hotel what makes its identity: a refined style, soft and enveloping forms, a concern for detail and the right line.
In these relatively small spaces (17m2), everything has been cleverly designed so that you feel like in a cocoon.
The attention goes as far as the bed linen , which is woven in Italy by the century-old Gastaldi company.
Hotel services: the Club, CALM
Directly inspired by the "All inclusive" that made the fame of Club Med, a famous brand of French vacation villages, the CALM is the Club of OKKO Hotel.
In this area, accessible throughout your stay, you will always find something to snack on (granola, shortbread, fruit...) and a hot drink (with Palais des Thés products) or a cold one. You will choose from a generous selection of press titles and fine books, and sit back and relax in the Club's dining room.
If you have no battery left on your laptop, you can switch to one of the 2 self-service macs.
To work out a little (or a lot), you can then access thefitness area, before relaxing in the small adjoining sauna.
With CALM, you will feel "Like Home"!
The breakfast
Breakfast is naturally served at the Club and offers a wide variety of sweet and savory dishes: pastries with Echiré PDO butter, scrambled eggs, French cheeses, smoked salmon...
Please note that if you wish to leave early (or late), the hotel can prepare a breakfast for you to take away.
The equipment
Access to the club area with snacks and press
A business area equipped with 2 computers (mac) and a printer
Fitness area (elliptical and weight training)
Sauna
Other services
Possibility of postponing the departure until 6pm with an additional cost.
Price range
The ambition of this new hotel chain is to offer the experience of a 4 star hotel, with accessible prices. The bet is globally held, with a price that can go under 100 € in off-peak period against 160 € in high period.
---
Read more
---
Practical information about OKKO Hotel in Nantes
Type of accommodation
Apartments
Where is Okko Hotel
OKKO Hotel is located in Nantes
Driving time from Tours: 2h10
Driving time from Angers : 1h10
Driving time from Blois: 2h40
Driving time from Orléans: 3h20
OUR ADVICE FOR
RENTING A CAR

IN

Normandy
Compare prices on our preferred platform: DiscoverCars - one of the best rated sites.
Choose a fairly compact car (many villages have narrowed the road).
Think aboutfull insurance (parking in big cities is really tight).
There is a lot of demand, book it early.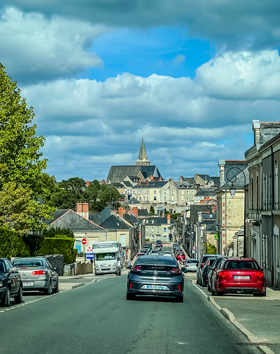 How to get there
To get to Nantes, you will be spoiled for choice, as the city has an international airport and a TGV station (18 return trips per day with Paris, for an average journey time of 2.5 hours).
The hotel is located in the city center, but is still accessible by car (with some traffic jams).
If you arrive by train or plane, don't hesitate to use public transportation, which is particularly well developed in Nantes, whether it be the tramway or the bus system.
You can reach theDuchesse Anne-Château stop by streetcar (5' walk) or Commerce (10'). By bus, the Saint Pierre stop (5'), near the Cathedral or the Hôtel de Ville stop (5') are served by many lines.
By opting for a city pass, you will have unlimited access to the public transport network and to 50 free services (museums, visits, cruises...). We strongly recommend that you buy it in advance to avoid wasting time on site and waiting in line. See the conditions and book your City pass.
Parking
Parking in Nantes is particularly difficult and expensive. We recommend that you use the hotel's parking lot, which has 14 spaces.
If it is full, you can use the Feydeau (6') or Decré-Bouffay (5') parking lots. Be careful with your wings, the places are sometimes a little narrow in the parking lots of Nantes (isn't it Claire... ?).
Is OKKO Hotel family friendly?
Although your children will be welcome, the hotel has only one room size that is too small to add a cot. Claire, the core target of these hotels is not families!
---
Read more
---
Our top 3 places to eat in Nantes
L'Aménité - best restaurant downtown
In one of the small pedestrian streets of the Bouffay district, not far from the castle, you will find what is, for us, one of the best restaurants in the city center, l'aménité. In a cosy-chic atmosphere, the chef Richard Cornet masters perfectly the textures and cooking temperatures to offer you a beautiful culinary moment. This former trader and psychotherapist did well to reconvert to cooking! Discover our detailed review and photos of the restaurant l'aménité
Sugar Blue - best healthy breakfast
If, like us, you love the atmosphere of Amsterdam's brown cafes, stop in for a light and healthy lunch at Sugar Blue. Here, everything is ultra-fresh and really greedy. Located not far from the famous Place Royale, it is a place that is full of energy and ultra-convivial. Our favorite lunchtime canteen! See the news of the restaurant
Le Manoir de la Regate - Best Starred
20 minutes from the city center, in a preserved natural setting along the Erdre River, a small 19th century manor house offers you a culinary journey to the heart of the wonders of the Loire and its banks: river fish, but also herbs, flowers, vegetables... You won't know where to put your taste buds! Really exceptional. Discover our detailed review and photos of the restaurant Le Manoir de la Régate.
---
And to learn more:
our complete selection of 15 restaurants where to eat in Nantes
---
Our top 3 things to do in Nantes
The elephant and the Machines de l'Ile
Over the years, the elephant and the machines on the island have become the cultural and tourist signature of Nantes. They combine incredible technical know-how with a phantasmagorical universe largely inspired by the Nantes author Jules Vernes. You can only succumb to these funny animals made of wood and metal.
The castle of Nantes (Dukes of Brittany)
The impressive castle of Nantes is a real architectural puzzle, the result of a tormented history, which it is pleasant to reconstitute. You will meet the Dukes of Brittany, the famous Anne of Brittany, wife of 2 successive kings of France, but also Louis XIV! The castle houses the surprising and very well designed museum of the history of Nantes.
The Pommeraye passage
An immersive experience in the bourgeois and wealthy universe of the 19th century, with this unique shopping mall in Europe. The play of light, the ironwork on the staircase, the sculptures... everything contributes to making this passageway a timeless place dedicated to the pleasure of window shopping.
---
And to learn more:
our complete selection of 15 things to do in Nantes
---