When a major French decorating brand enters the hotel business, the result is Maisons du Monde Hotel & Suites.
Ideally located in the heart of downtown Nantes, this hotel promises you a night"like at home" with uniquely decorated rooms.
Here are some pictures of this night and our practical advice so that you can also go to these Maisons du Monde.
Why stay at Maisons du Monde Hotel & Suites - Nantes
Among all the nice hotels in Nantes, which we talk about in our article the 12 best hotels where to sleep in Nantes, the hotel Maisons du Monde stands out for :
An ideal location, in the heart of Nantes, 2 steps from the Passage Pommeraye and the many shops and restaurants that animate the city center.
Furnished only with Maisons du Monde items, you feel like you're at home while enjoying the services of a hotel! It's hard to imagine a more cocooning combination.
Although we are in a nascent hotel chain (you can find Maisons du Monde in Marseille and La Rochelle too, and there is more to come...), there is a nice variety in the decoration of the rooms and the common areas, and thehotel has character. And we like that!
---
Read more
---
Is Maisons du Monde Hotel & Suites - Nantes worth it? Our review
The emergence of Airbnb and the development of reviews on booking have considerably changed the expectations in terms of hotels. Traditional chains are struggling to adapt to these changes and to see a consumer decoration brand launch itself is not insignificant.
The promise of this new chain, which already has 3 hotels (Nantes, Marseille and La Rochelle) is to make us feel"like at home, but better". Logical when for 25 years we have equipped the interiors of many French people and we can now invest in the best locations in major French cities.
Overall, the challenge was met, with a warm atmosphere, a relaxed staff, and an abundance of decoration that is 100% Maisons du Monde.
The location is one of the best possible in Nantes, close to all the tourist places and in a very lively area.
---
Read more
---
FOR QUALITY ADVICE

Support us
Do you enjoy all the free content you find on our blog, without intrusive ads?
Our independence, the only guarantee of qualitytips, is partly based on your generosity!
We offer you to give us a coffee (or several) in the hope of sharing it with you one day in person!
Decoration and atmosphere
Maisons du Monde's style is one of accessible decoration, mixing styles and influences from the 5 continents. You will find an exotic rattan chandelier as well as a comfortable 19th century sofa or something to give a South American atmosphere to your living room.
The hotel's decoration is 100% Maisons du Monde and this eclecticism can be found in the common areas, which are an invitation to conviviality, as well as in the rooms, which promise you a night of exoticism.
You will need to choose one of the 5 types of atmosphere for your room: Green Grey, our choice, to sleep in the middle of the fauna and flora, Exo Chic, Explo Chic, Classique Chic or the surprising Jagger room, in homage to the glam rock style of the famous British singer (whom we adore!).
And if you really want to feel "at home, but better" and cook for yourself, you can opt for one of the 11 apartments, all of which promise an immersion in a different city of the world.
History
Like many French people, we grew up with Maisons du Monde items in our apartments. This consumer decoration brand created in 1996 by a Brest native, Xavier Marie, has made Nantes (Vertou to be precise) its headquarters. It quickly established itself as a brand that dares to blend atmospheres and cultures, far from minimalist designs.
This positioning, in line with the ever-increasing openness of world trade, has ensured the success of the brand, which now has 357 stores in 11 European countries.
After equipping many hotels, she decided to open her first hotel of her own in April 2019 in Nantes. In order to carry out this project, the company has joined forces with experts in real estate investment in the heart of the city, the Vircatem Group, headed by Céline and Sébastien Meslin.
The second hotel will open in January 2021 in Marseille and the third in La Rochelle in May 2021. But where will they stop?
The breakfast
True to their niche, the breakfast is like home. Served in the hotel's lounge, you will find a generous and gourmet buffet on the work surface of a family kitchen.
The jams come from the orchard Les Cueillettes d'Annette, located in Couëron, 15 km from Nantes, the pastries come from the Nantes bakery Emma (famous for its choux which are too good...) and the cakes are home-made!
Like at home, but better... (at least more copious!)
The equipment
The lounge can accommodate you for coworking and networking with a high-speed wifi.
Price range
We are in a 4 star downtown hotel and that comes at a cost. But nothing pharaonic in the image of the brand. Apartments remain competitive with Airbnb in high demand in Nantes.
---
Read more
---
Practical information about Maisons du Monde Hotel & Suites - Nantes hotel in Nantes
Type of accommodation
Hotel and apartments
Where is Maisons du Monde Hotel & Suites - Nantes
The hotel is located in Nantes.
Driving time from Tours: 2h10
Driving time from Angers: 1h10
Driving time from Orleans: 03h20
Driving time from Blois: 02h40
OUR TIPS FOR RENTING A CAR IN
Loire
Compare prices on our preferred platform: DiscoverCars - one of the best rated sites.
Choose a fairly compact car (many villages have narrowed the road).
Think aboutfull insurance (parking in big cities is really tight).
There is a lot of demand, book it early.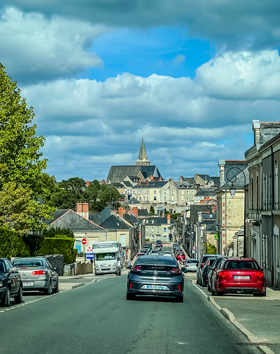 How to get there
To get to Nantes, you will be spoiled for choice, as the city has an international airport and a TGV station (18 return trips per day with Paris, for an average journey time of 2.5 hours).
The hotel is located in a pedestrian area and therefore not directly accessible by car, but with plenty of parking within 100-200 meters of the hotel.
If you arrive by train or plane, don't hesitate to use public transportation, which is particularly well developed in Nantes, whether it be the tramway or the bus system.
As the hotel is located in the heart of the city, many stations will take you within a few minutes of the hotel. The easiest way to get to the hotel is to go to theCommerce stop, which is the most central and best served.
By opting for a city pass, you will have unlimited access to the public transport network and to 50 free services (museums, visits, cruises...). We strongly recommend that you buy it in advance to avoid wasting time on site and waiting in line. See the conditions and book your City pass.
Parking
The hotel does not have a parking lot, but you can opt for the paid Commerce parking lot, or Graslin, but also Médiathèque. Be careful, the parking lots in Nantes are sometimes quite narrow and can cause damage to your right wing...
You can also try your luck in the streets adjacent to the hotel, but parking there will be charged and fines can happen very quickly if you let the time slip away.
Is Maisons du Monde Hotel & Suites - Nantes family friendly?
The hotel, even if it does not offer special services for children, is certainly agood address to visit Nantes with your family, as the atmosphere is warm and unpretentious. Everyone should feel comfortable!
You can either opt for the connecting rooms of the hotel or choose one of the apartments. For once, there is a choice!
---
Read more
---
Our top 3 things to do in Nantes
The elephant and the Machines de l'Ile
Over the years, the elephant and the machines on the island have become the cultural and tourist signature of Nantes. They combine incredible technical know-how with a phantasmagorical universe largely inspired by the Nantes author Jules Vernes. You can only succumb to these funny animals made of wood and metal.
The castle of Nantes (Dukes of Brittany)
The impressive castle of Nantes is a real architectural puzzle, the result of a tormented history, which it is pleasant to reconstitute. You will meet the Dukes of Brittany, the famous Anne of Brittany, wife of 2 successive kings of France, but also Louis XIV! The castle houses the surprising and very well designed museum of the history of Nantes.
The Pommeraye passage
An immersive experience in the bourgeois and wealthy universe of the 19th century, with this unique shopping mall in Europe. The play of light, the ironwork on the staircase, the sculptures... everything contributes to making this passageway a timeless place dedicated to the pleasure of window shopping.
---
And to learn more:
our complete selection of 15 things to do in Nantes
---
Our top 3 places to eat in Nantes
L'Aménité - best restaurant downtown
In one of the small pedestrian streets of the Bouffay district, not far from the castle, you will find what is, for us, one of the best restaurants in the city center, l'aménité. In a cosy-chic atmosphere, the chef Richard Cornet masters perfectly the textures and cooking temperatures to offer you a beautiful culinary moment. This former trader and psychotherapist did well to reconvert to cooking! Discover our detailed review and photos of the restaurant l'aménité
Sugar Blue - best healthy breakfast
If, like us, you love the atmosphere of Amsterdam's brown cafes, stop in for a light and healthy lunch at Sugar Blue. Here, everything is ultra-fresh and really greedy. Located not far from the famous Place Royale, it is a place that is full of energy and ultra-convivial. Our favorite lunchtime canteen! See the news of the restaurant
Le Manoir de la Regate - Best Starred
20 minutes from the city center, in a preserved natural setting along the Erdre River, a small 19th century manor house offers you a culinary journey to the heart of the wonders of the Loire and its banks: river fish, but also herbs, flowers, vegetables... You won't know where to put your taste buds! Really exceptional. Discover our detailed review and photos of the restaurant Le Manoir de la Régate.
---
And to learn more:
our complete selection of 15 restaurants where to eat in Nantes
---